Our popular wine and food celebration to benefit the SC Philharmonic returns! Join us for a thrilling night that delights the senses and supports your local orchestra - all while raising a glass to the amazing businesses that make Columbia an amazing place to live.
Venue: South Carolina State Museum (301 Gervais St.)
Monday, March 27, 2023
6:00 p.m. Sponsors and Hosts Committee arrive
Doors open at 6:30 p.m. to General Admission
Event duration 6:30 p.m. – 9:30 p.m.
Business casual attire
Through a partnership with a variety of wineries, foreign and domestic, guests will sample high end wine from around the world such as Cakebread, Silver Oak and King Estate. Epicurean delights from the Midlands' best restaurants will be featured for guests to enjoy. 
YOU'LL ALSO ENJOY:
SILENT AUCTION featuring wine and specialty items
MUSIC by Dreher High School Steel Drum Band and Reggie Sullivan Quartet
BEER from Columbia Craft
CIGARS for guests purchases from Stoney Creek Cigars
Tickets:  $125
Sponsor a musician to attend: $80
Complimentary valet provided by Southern Valet
Complimentary cab service by Checker Yellow Cab
Please note, no physical tickets will be distributed. Your name will be added to a guest list at the event registration table.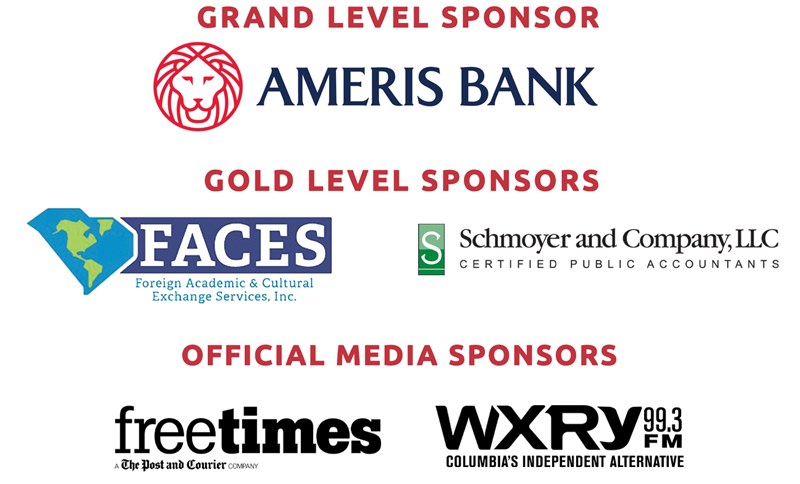 TABLE SPONSORS

BlueCross BlueShield of SC
Butler Electric
First Citizen's Bank
Grant Thornton
Haynsworth Sinkler Boyd, PA
Heartstrings
McDowell Pearman
South Carolina State Museum
Southern Valet
Synovus
Terminix
Truist
RESTAURANT PARTNERS

Alodia's
Blue Marlin Steaks & Seafood
Boku
Bourbon/Black Rooster / Dragon Room
COA Agaveria Y Cocina
Hendrix
Market on Main
Miyo's/ M Vista/ M Gourmet Group
Motor Supply Co. Bistro
Poogan's Southern Kitchen
Ratio
Tavern on 6 / Fusco's Market
Tazza
The Melting Pot
You'll also enjoy an elegant display of cheese from the Gourmet Shop, generously provided by Schmoyer & Company, LLC

FEATURED WINERIES
Banfi Tuscany
Cakebread Cellars
Daou
J Vineyards
Lohr
King Estate
Pine Ridge Vineyards
Orin Swift
Taittinger
HOST COMMITTEE
Dave Allison & Linda Phipps
Gail & Steve Anastasion
Bert & Dick Bannon
Sara & JB Beckett
Mary & Clinch Belser
Hilary & Kyle Brannon
Sarah & Frank Brown
Mary Green Brush & Carroll Allen
Ann and Andy Cameron
Brandi & Jarrett Coco
Betsy & Freeman Coggins
Peg & Bill Danielson
Lindsay & Charlie Griffin
Lynn Hodge
Mike & Laura Kelly
Emily & Jason Luther
Marci & Fred Medway
Gail Morrison
Eleanor & Herb Niestat
Beth & Matt Richardson
Hannah and Ron Rogers
Jeannie & Hyman Rubin, Jr.
Cindy & Al Saad
Jennifer & Stephen Savitz
William Schmidt
Wendy & Terry Schmoyer
Pat Smith
Marcia Stine
Bob Thompson
Eric Tucker & Paul Leo
David Turner & Mitchell Goldsmith
Kirk & Juanita Vitali-Cox
Lynne & Regan Voit
Mary Baskin Waters & Sam Waters
Brenda & Rick Wheeler
Bridget & Chris Winston
EVENT COMMITTEE
Co-Chairs: Dave Allison & Dick Bannon
Mary Green Brush
Freeman Coggins
Lindsay Griffin
Lynn Hodge
Fred Medway
Terry Schmoyer
Kerrie Sneed
Bob Thompson
Eric Tucker
David Turner
Brenda Wheeler